Console tables are versatile furniture pieces that can change your home decor. These simple tables have been staples for centuries. Few changes have been implemented over time. Some of these changes affect the sizes following the trending or preferred style. Looking for a comprehensive guide to console tables sizes? Look no further than our website!
How to Get the Right Console Table Size
To get the right console table, consider these factors:
Height
Getting the right height is crucial in reaching a perfect console table size. Console tables traditionally stand at about 76 centimeters (30 inches). With this height, the table is tall enough to use while standing or sitting. Console tables are often used as sofa tables, so you must ensure it is not too high to poke out behind the sofa.
Length
Console tables often range between 61 to 122 centimeters, which is about 24 to 48 inches in length. This is enough to span the sofa's length without peaking behind the chair. With this length, you have enough room to move around the sofa without bumping into the table. You can keep the length on the higher side if you want to use the table in your bedroom to hold accessories.
Width
The width is equally vital in determining the size of a console table. Console tables are usually slim, with an average width between 30 to 38 centimeters, which is 12 to 15 inches.
Other Factors to Consider When Choosing the Right Console Table Size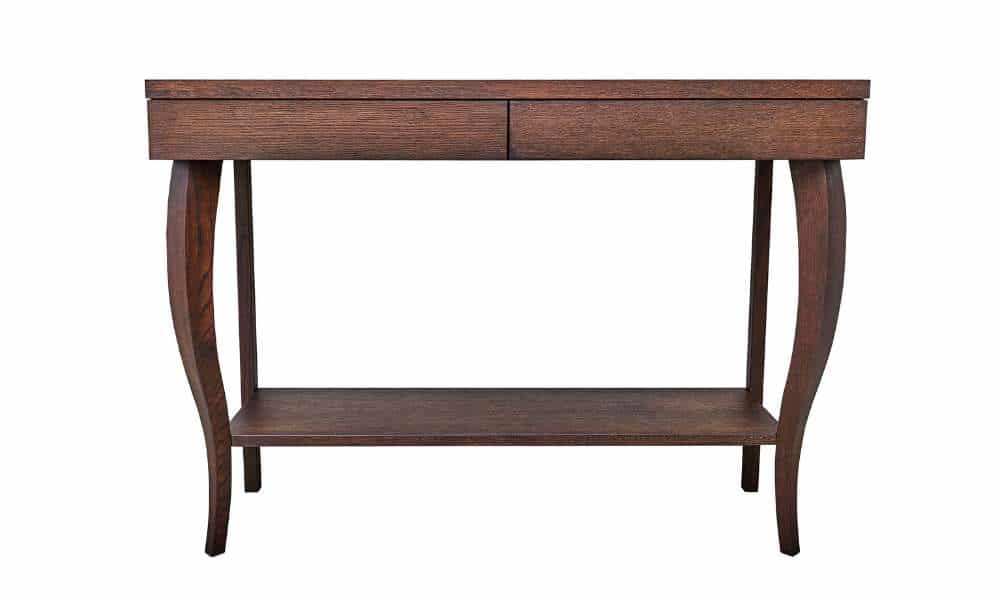 A console table's size is mainly about height, length, and width. However, more elements are needed to get the right console table size. Check out some of them below:
Other Possible Uses
A console table can serve multiple purposes depending on where you put it. If you want to use it as a sofa table, you already know to ensure the height and length do not exceed those of the sofa. If you use it in the dining room, you must ensure the size blends well with other furniture. When you want a console table you can move around for different functions, you'll have to go for a portable size with a light frame.
The Interior Setup
You must consider your interior setup when setting a preferred size for a console table. The table should fit in well with the existing decor. Consider whether there will be enough space for moving around after placing the table in the hallway. The height may be a problem if you put it behind the sofa.
The Material
Another essential element to consider is the material. Wooden console tables are typical, but that's not the only material a console table can come in. A console table can be made of glass, metal, or plastic. Whichever material you choose, ensure it is something you can easily maintain, especially after considering its use.
Key Takeaway
The key takeaway from this guide is that buying a console table is not as easy as going to the marketplace and buying the first one you see. You must ensure that the table you are purchasing is the right size for the intended purpose.
Final Thoughts
In conclusion, a comprehensive guide to console tables come in a variety of different sizes and can use for many different purposes. Whether you need a small table for your office or a large one for a formal dining room, there is likely a console table size that will suit your needs. With this comprehensive guide, you can find the perfect console table for your space and use it to its fullest potential. So don't wait any longer, pick up a console table today and start using it to its fullest potential!