Sharpening kitchen knives is an essential part of keeping them in good condition. The tips can become blunt quickly, which can lead to inaccurate cuts and even accidents. Proper knife sharpening can help prolong the life of your knives and make them easier to use. There are a few different ways to sharpen kitchen knives, depending on the type of sharpener you have.
What Are Kitchen Knives?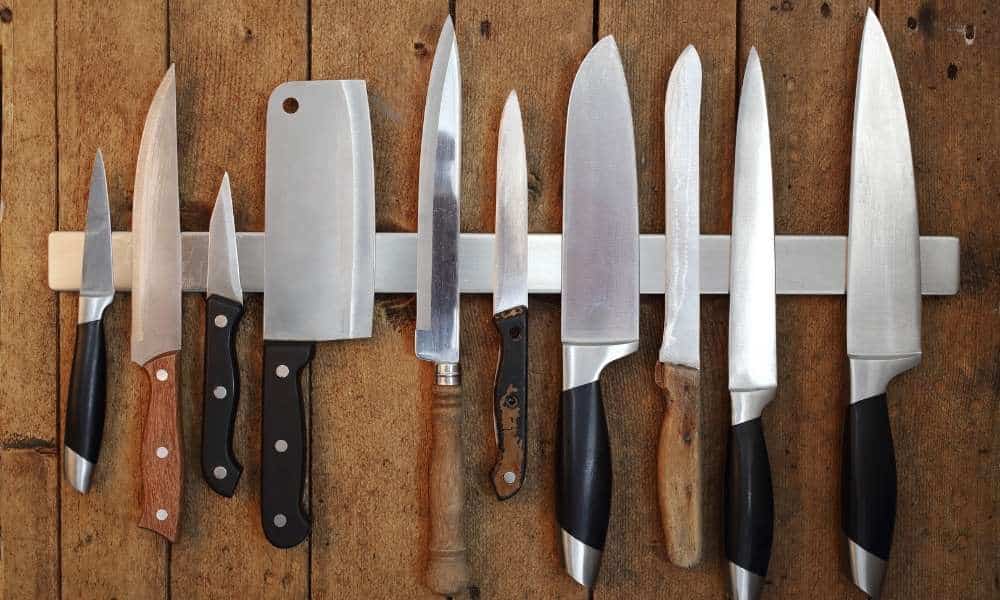 .Kitchen knives are an essential tool in any kitchen. They can use for a variety of tasks, from chopping vegetables to slicing meat. When it comes to sharpening kitchen knives, there are a few things to keep in mind. First, always use a sharpening stone or whetstone that's specifically designed for Kitchen Knives. Second, use moderate pressure when sharpening the blade. Too much pressure can damage the blade and cause it to become dull quickly. Finally, make sure to regularly clean your kitchen knives with hot water and soap. This will keep them in good condition and prevent them from becoming dull.
The Different Types Of Kitchen Knives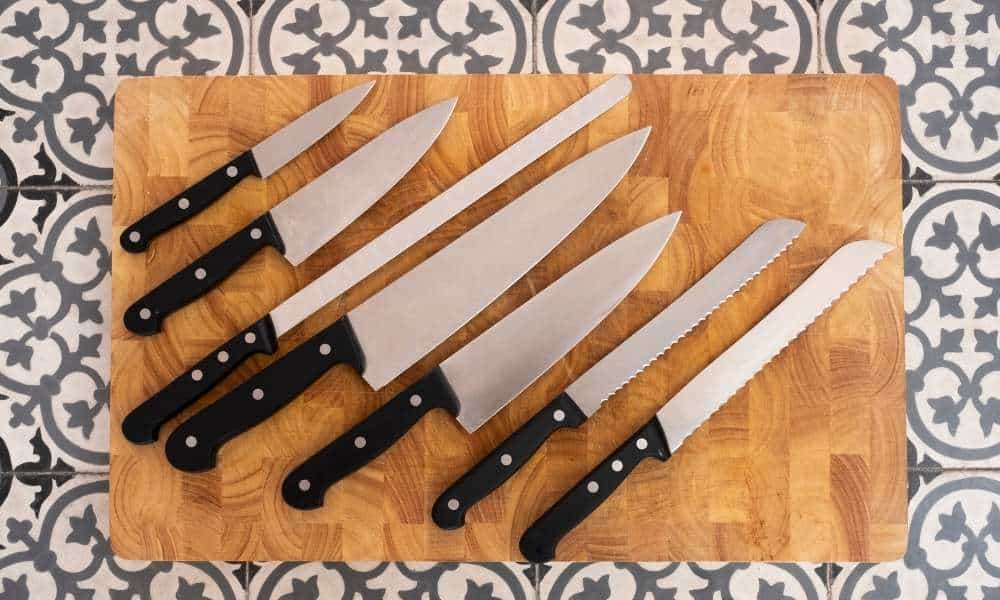 The different types of kitchen knives can be broken down into three categories. Chef's knives, carving knives, and utility knives. 
Chef's knives are typically the largest and most durable of the three types and are designed for cutting through thick pieces of food. They come in a variety of shapes and sizes, from straight-edged to curved, and can be used for everything from slicing meat to chopping vegetables.
Carving knives are designed for precise cuts, and are often smaller than chef's knives. They're ideal for slicing meat or vegetables as thin as possible.
Utility knives are the smallest and least-expensive type of knife and are perfect for everyday tasks like cutting bread or opening cans. They come in a variety of shapes and sizes, so you can find one that perfectly suits your needs.
What You Need To Sharpen A Kitchen Knife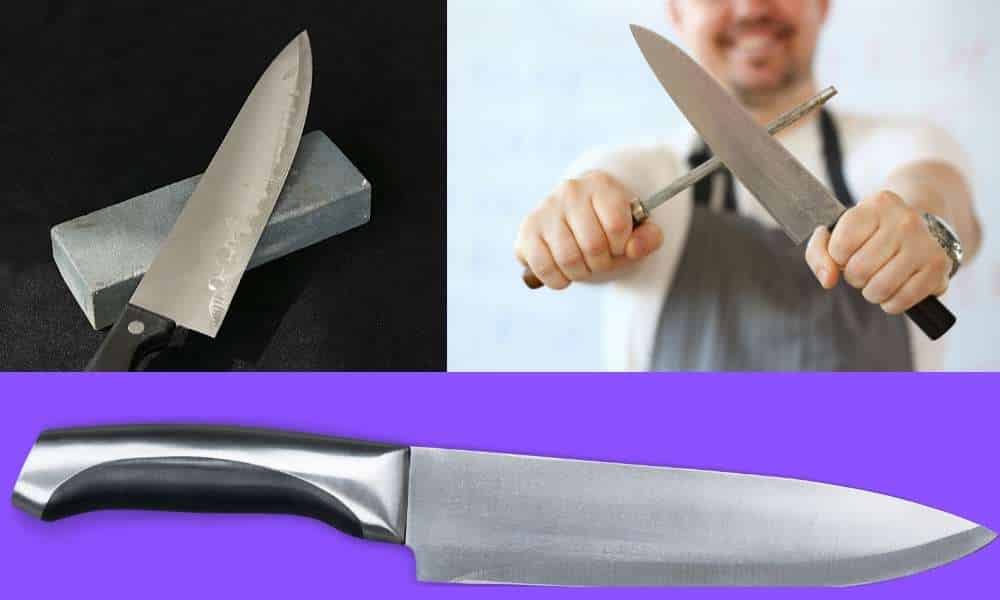 If you own a kitchen knife, then it is important to keep it sharp. The truth is that most kitchen knives sharpen with a little bit of effort. 
Here are some steps on how to sharpen your kitchen knife
Find a sharpening stone that is the right size for your knife. Kitchen knives come in all different shapes and sizes so make sure to find the right stone for your knife. Some stones are bigger while others are smaller. So, you'll need to find the right size for your blade as well as your working space.
Place the blade on the stone so that the edge of the blade is touching the stone and hold it there with one hand while using the other hand to guide the blade up and down on the stone.
Some Easy Guides To Sharpening A Kitchen Knife
It can be difficult to keep a kitchen knife sharp. If the blade is dull, it won't slice through food evenly, and it can be dangerous to use. There are a few steps you can take to keep your knives sharp.
First, always sharpen the blade when it's needed. You can do this by using a honing rod or diamond sharpener. Honing rods are easy to use, but diamond sharpeners are more accurate and will last longer.
Second, make sure that your knife is kept clean. Wipe down the blade after each use with a damp cloth to remove any food residue. Also, keep the knife in a sheath when not in use to avoid damage from everyday wear and tear.
How To Tell If Your Knife Is Sharp Enough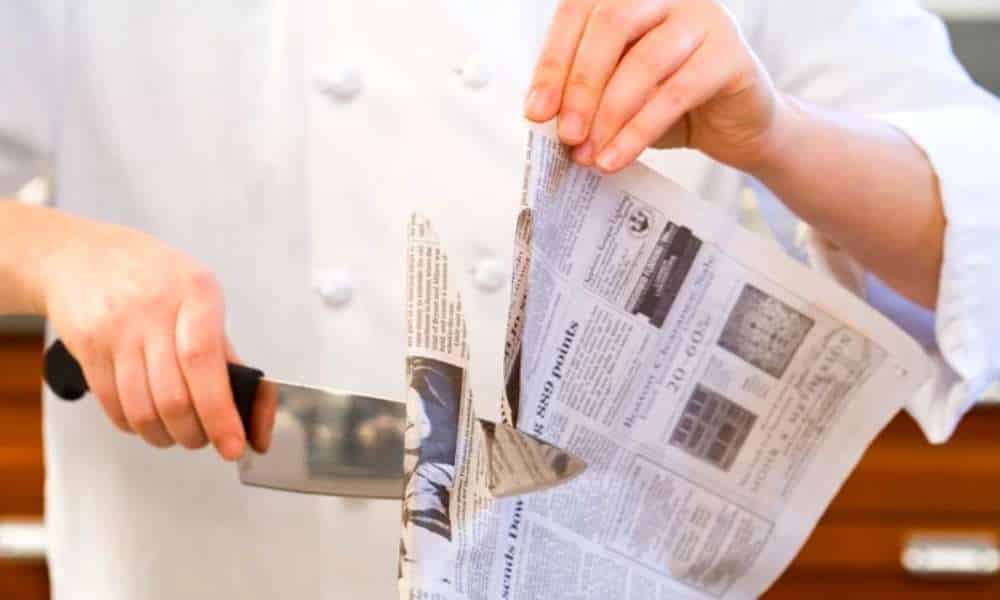 When you are in the kitchen, it is important to always have a sharp knife. Unfortunately, not all knives are created equal when it comes to sharpening. 
Here are a few tips on how to tell if your knife is sharp enough
Hold the blade against a hard surface and use your finger to feel the difference in sharpness. If the blade feels sharper than your finger then it is sufficiently sharp.
Sharpen the blade on a regular basis by using a honing rod or sharpening stone and stroking the blade back and forth across it. Be sure to hold the knife at a 20-degree angle and use moderate pressure so that you don't wear down the blade too much.
Using Sharpening Steel To Sharpen A Kitchen Knife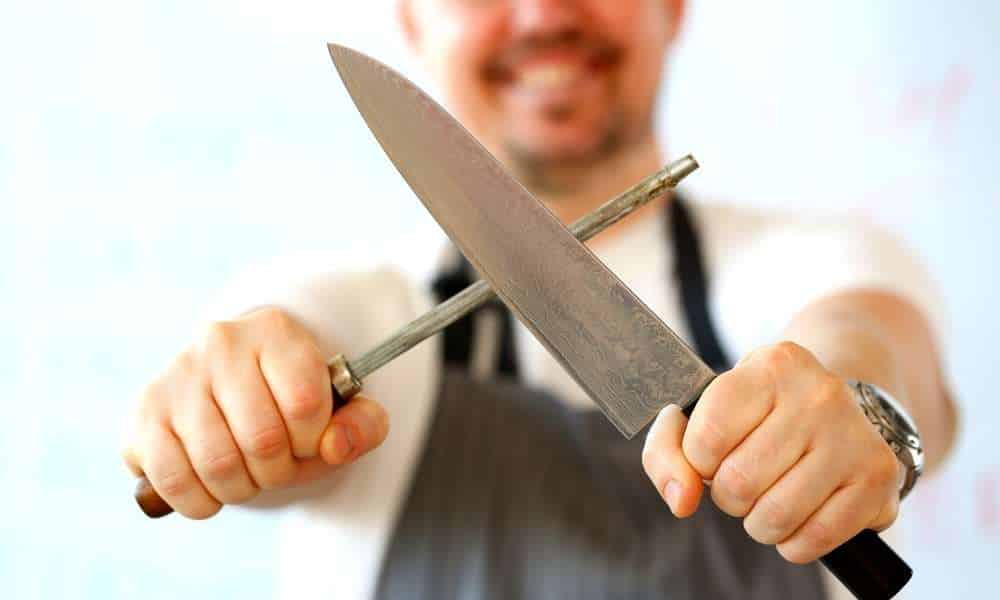 easy way to get the best results. Sharpen your knife by hand using a honing rod or diamond sharpener, but if you're in a hurry or don't have access to either of these tools, using sharpening steel is an acceptable alternative.
Follow these simple steps
Hold the kitchen knife at a 20-degree angle so that the blade is flat against the steel.
Apply moderate pressure while moving the blade back and forth across the steel. Don't over-sharpen your knife – you only need to sharpen it enough to get an edge on it.
Stop when you reach the desired sharpness, then rinse and dry your knife before putting it away.
Use Electric Knife Sharpeners
Looking to sharpen your kitchen knives with an electric knife sharpener?
Here are some tips to help you choose the best one for your needs
Electric knife sharpeners come in a variety of shapes and sizes. So it is hard to know which one is the best fit for your needs. Before choosing an electric knife sharpener, it is important to consider what type of knives you plan on using. For general kitchen tasks like slicing vegetables or cutting meat, a manual knife sharpener will do just fine. However, if you plan on using your electric sharpener specifically for kitchen knives, you'll need to choose a model that specifically caters to this purpose. There are two main types of electric knife sharpeners- those that use diamond blades and those that use ceramic blades.
Use Manual Knife Sharpeners
Are you looking for ways to sharpen your kitchen knives without having to go to a professional? You can use manual knife sharpeners!
Here are some tips on how to use them
Choose the right sharpener. There are many different types of manual knife sharpeners, so it is important that you find the one that is right for your knives. Some require oiling while others don't. Try out a few until you find one that works best for you.
Sharpen the blade at an angle. When sharpening a kitchen knife, always hold the blade at an angle. Holding the blade at a 45-degree angle will produce a too-sharp edge and will dull quickly. Hold the blade at an angle of around 20 degrees and work your way up from there.
Keep track of your progress.
Use Whetstones To Sharpen A Kitchen Knife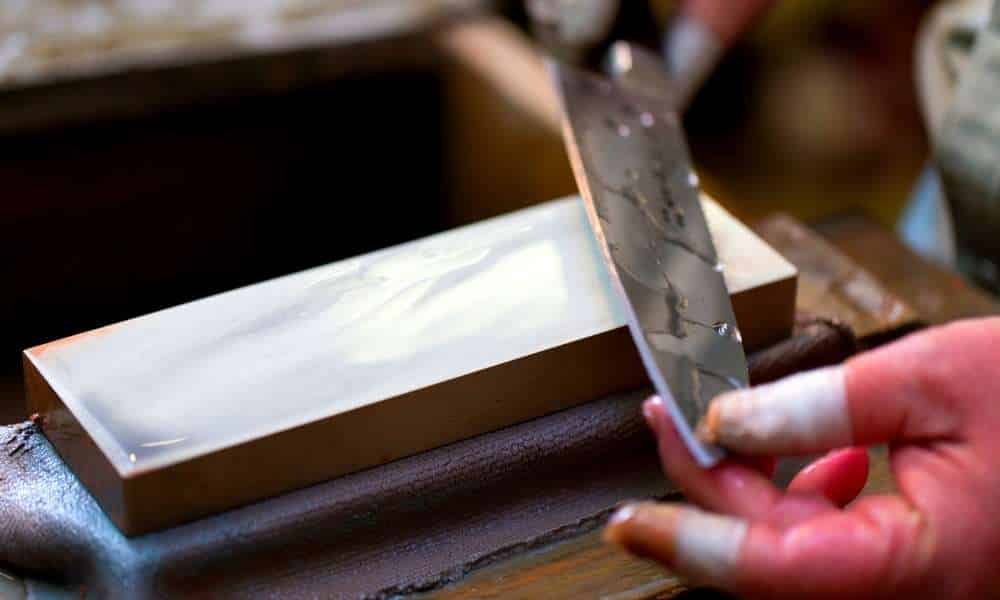 Whetstone is a stone that uses sharp kitchen knives. They come in a variety of shapes and sizes. They can use with a honing rod or a sharpening stone. Choosing the right whetstone is important for correctly sharpening your kitchen knives. You should also keep in mind the type of knife you're using, the blade's hardness, and your personal preferences.
There are three types of whetstones: Arkansas, Japanese, and Belgian. Arkansas stones are the most common type and they work well with both Japanese and Belgian stones. Japanese whetstones are designed to sharpen blades quickly and easily. While Belgian whetstones are slower but more durable. It's important to use a whetstone that's the correct size for your knife; if you use an oversized stone, you'll damage your knife blade.
Use A Sharpening Stone To Sharpen A Kitchen Knife 
The sharpening stone is a great way to sharpen your kitchen knives. Not only will it keep your blades razor-sharp, but it will also save you time in the long run. All you need is a sharpening stone and some water.
Here are instructions on how to use a sharpening stone
Wet the stone with water.
Place the blade of the knife on the wet surface of the stone. Make sure that your angle is correct and that the blade is perpendicular to the stone.
Hold onto the knife with a firm grip and start stroking the blade back and forth across the surface of the stone at an angle that matches your desired edge angle (usually about 20 degrees).
Use A Coffee Mug To Sharpen A Kitchen Knife
If you're like most people, your kitchen knife will probably need sharpening from time to time. But Sharpening a kitchen knife can be a tricky task, and it's not always easy to find the right tool or technique. That's where a coffee mug comes in handy!
Here's how to use a coffee mug to sharpen your kitchen knife
Wet your kitchen knife with water and place it in the mug. Make sure that the blade is positioned so that it is touching the bottom of the mug.
Apply pressure to the blade with your fingers and hold the mug steady while you use a honing rod or diamond sharpener to sharpen the blade. Be patient – it may take some practice before you get the hang of it!
Do Those All Work Very Carefully
Many people think that simply putting the knife through its paces will sharpen it. This is not always the case. A dull knife is more likely to slip and cause accidents. It is also harder to chop food evenly because the blade will not slide through the food easily.
Final Thoughts
If you want to keep your kitchen knives in good condition, it is important to learn how to sharpen them yourself. There are many different ways to do this, and the best way for you to learn is by trying several techniques until you find one that works well for you. Additionally, be sure to store your knives properly so that they remain sharp and ready to use.