Do you want to freshen up your house or office but are limited by a short budget? Simple improvements like changing the cabinet hardware, updating wall paints, and re-locating the furniture can make a big difference. The flooring in your home could be replaced as one of these alternatives! Floors must be sturdier enough to bear chair/ table load and harsh chair movements. In this article, we inform you how to protect your office floors.
It's possible to get floor coverings that are within your budget range. If you're thinking about thoroughly changing the floors, it can be time-taking. Glass chair mat for carpet or hardwood floors can be the best return on investment. While meeting your practical and aesthetic requirements perfectly. Weighing the benefits, we have listed some of the best cheap flooring options.
Some In-expensive Ways To Cover Your Office Floor
The best flooring for commercial offices will combine both form and function. While planning for new floor protectors, it's important to think about cost, aesthetics, foot traffic, and upkeep, and how to protect your office floors
⦁ Sheet Vinyl
Sheet vinyl is an excellent cheap option, guaranteeing a comfortable, long-lasting experience. It also comes in a huge range of colors and patterns to meet the needs of any fashionista. It's important to keep in mind that sheet vinyl quality might vary widely. It can be across manufacturers and even between models of the same manufacturer. You can simply buy and install it on your own. Removal, however, can be challenging.
⦁ Glass Chair Mat
Protect your carpets and floors with toughened glass chair mats. The glass used in these mats is four to five times stronger than standard window glass. Frequent office chair movements leave hard scratches on the floor. And the carpets make training a bit difficult. These transparent mats are easier on the feet than tile or carpet. You reduce the strain on your spine and joints as you maneuver in your chair. Glass chair mats protect the floors from damage and awkward color fading. Apart from protection, these transparent yet classic options are best-pick for enhancing the interior.
⦁ Carpet
Carpets can cost around $8-$10 per square foot, depending on the style. Also, price points fluctuate widely based on the carpet's quality and construction. Carpet is a cheap, secure, and handy flooring option, making it ideal for homes with children.
You may probably discover a carpet that suits your taste among the many available options in terms of color, style, and material. DIY carpet installation is not recommended due to the high potential for problems for beginners.
Carpets aren't as low-maintenance as other flooring options, Though, because stains and spills can't simply be wiped away.
⦁ Laminate Flooring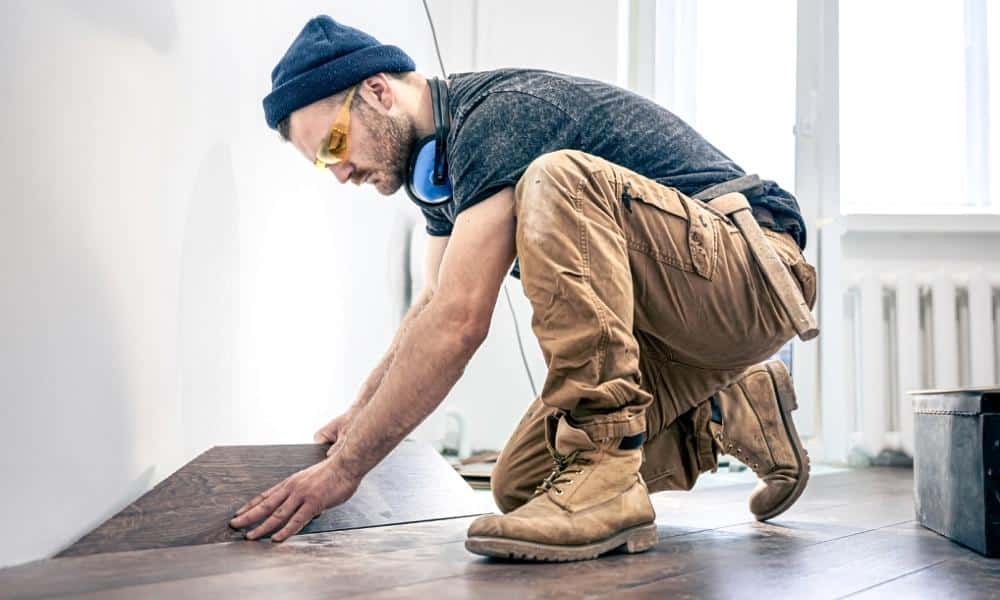 If you're looking for a low-cost alternative to hardwood floors, this is a fantastic option to consider. It's sturdy, long-lasting, and simple to care for. If water or moisture penetrates through the crevices due to a lack of appropriate sealing, it gets damaged easily. Laminate flooring is inexpensive and easy to install but can be hard on the feet.
⦁ Polished Concrete
Polished concrete floors can be purchased for as little as $2 to as much as $8 per square foot. For the most reliable results, it's better to have a professional handle the installation of concrete. If something goes wrong during the pouring process. The results can't be fixed easily. However, once the floor is set and polished. Cleaning and maintaining it is quite simple and inexpensive. On the other hand, concrete floors might be a chilly, rough, and unpleasant choice.
⦁ Rubber
Rubber flooring is durable, resilient, and easy to maintain. Makes it a great choice for high-traffic areas. Rubber flooring lasts a long time, can withstand heat and water, and won't slip. It's perfect for an open floor plan because it's easy on the feet and can muffle background noise.
⦁ Hardwood
Hardwood flooring is not only long-lasting but also low-maintenance if properly cared for. The variety of available wood flooring ranges from luxurious red oak to eco-friendly bamboo. A hardwood floor is a timeless design choice that automatically elevates the look of any office.
The Bottom Line!
Glass chair mats for carpets and floors offer several advantages. It can save your floors and carpets from rough wheel movements. However, the best flooring can be kept to a minimum if you have approached the right suppliers. Fab glass and Mirror, offers top-notch glass chair mats to make your office experience a breeze, and how protect your office floors.