Wooden kitchen cabinets are a classic choice for many homes. They can give your kitchen a warm and inviting feeling. But, they also require a bit more care than other types of cabinets. Here are some tips on how to clean kitchen cabinets' wood and keep them looking their best.
What Are Wood Kitchen Cabinets
Wood kitchen cabinets are a classic and clean choice for many homeowners. Though wood is susceptible to staining and scratches, with proper care, wood cabinets can last for many years. Wood cabinets can be found in a variety of colors and stains, so you're sure to find the perfect look for your kitchen. If you're considering wood kitchen cabinets, here are a few things to keep in mind.
There Are 11 Easy Steps For Cleaning Wood Kitchen Cabinets
Cleaning wood kitchen cabinets does not have to be a difficult or time-consuming task. By following these eleven easy steps, you can have your cabinets looking like new in no time.
Wipe The Outside Of The Cabinets After Cooking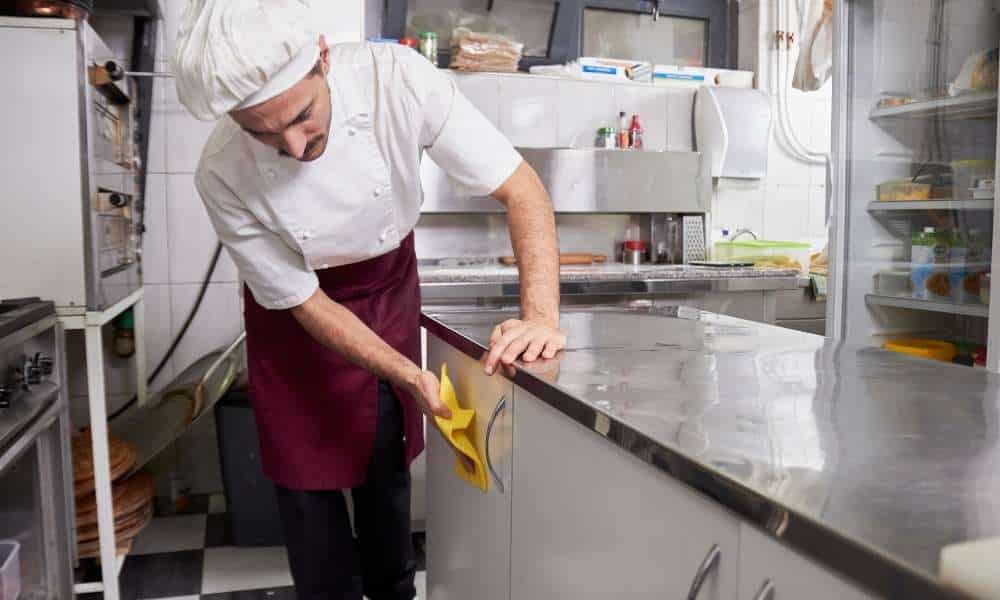 If you're like most people, your kitchen is the heart of your home. It's where you cook, eat and entertain. So it's no surprise that keeping it clean is a top priority. But what about those pesky cabinet doors? They're always getting dirty, especially if you're a passionate cook. Here's how to keep them clean and streak-free.
First, wipe down the doors with a damp cloth after cooking to remove any grease or splatters. Then, use a mild cleaner or all-purpose cleaner to remove any stubborn dirt or grime. Be sure to rinse well and dry with a soft cloth afterward.
For tough stains or spots, you may need to use a little elbow grease (literally). Scrub the area with a soft brush or sponge and some cleanser until it comes clean. Rinse well and dry afterward.
Regularly Clean Out The Inside Of The Cabinets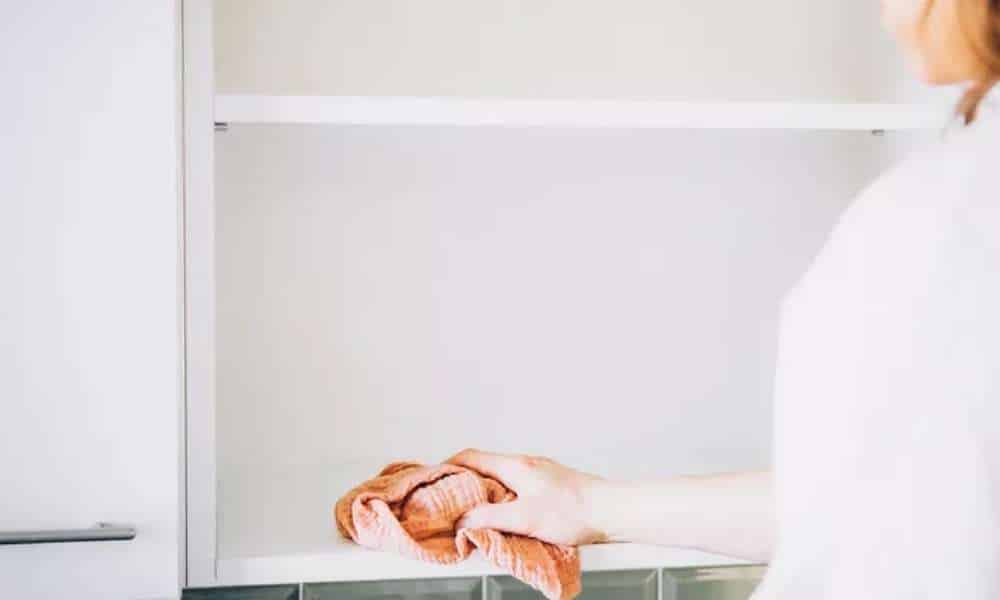 It's easy to forget about cleaning the inside of the cabinets, but it's important to do it on a regular basis.
Here are a few tips for keeping your cabinets clean
Empty out the contents of each cabinet and give them a good wipe down with a damp cloth.
Once a week, use a vacuum with a dusting attachment to remove any built-up dust.
If you have wooden cabinets, once a month you should wipe them down with a wood cleaner or furniture polish to keep them looking nice.
Don't forget to clean the cabinet hardware! A simple solution of vinegar and water can be used to clean most cabinet hardware.
Finally, line the shelves with fresh shelf liner before putting everything back in the cabinets. This will help keep things clean and organized.
Remove Dust The Cabinets Regularly
If you have wood cabinets in your kitchen, it's essential to remove dust from them on a regular basis. Dust can build up over time and eventually lead to a layer of grime. This not only looks unsightly, but it can also be difficult to clean.
To remove dust from your cabinets, start by using a soft cloth or duster. Gently wipe down the surfaces of the cabinets, being careful not to damage the wood. If there is any built-up grime, you may need to use a mild cleaner and scrub lightly with a sponge or brush.
Once you've removed the dust, be sure to polish the cabinets with a furniture polish or beeswax to protect the wood and keep them looking shiny and new. Regular dusting will help extend the life of your kitchen cabinets and keep them looking their best.
Use A Wood Cleaner To Clean Wood Kitchen Cabinets
If your kitchen cabinets are looking a little worse for wear, you may be wondering how to clean them. Wood kitchen cabinets can be tricky to clean, as you don't want to damage the wood. However, there are some cleaners that are specifically designed for wood cabinets. Using a wood cleaner is a great way to clean your cabinets without damaging the wood.
Wood cleaners come in both liquid and gel forms. They usually have a light scent and can be easily wiped away with a damp cloth. When cleaning your cabinets, make sure to follow the directions of the cleaner. Some cleaners may need to be left on for a few minutes before being wiped away.
Once you've cleaned your cabinets with a wood cleaner, you'll notice that they look brighter and more vibrant.
Use Murphy Oil To Clean
Murphy Oil is a versatile product that can be used for cleaning a variety of surfaces. Here are some tips on how to use Murphy Oil to clean kitchen cabinets and wood surfaces.
To clean kitchen cabinets, mix one cup of Murphy Oil with one gallon of warm water. Apply the mixture to the cabinets with a sponge or cloth, and then rinse with clean water.
To clean wood surfaces, mix one part of Murphy Oil with two parts of water. Apply the mixture to the surface with a sponge or cloth, and then wipe away any excess.
Purchase Oil Soap Wood Cleaner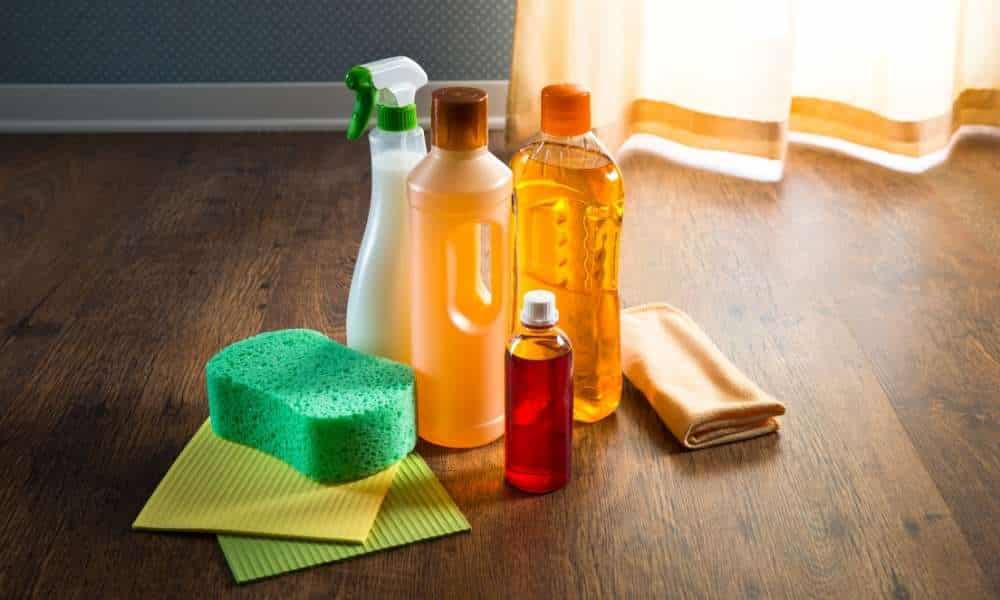 If you're looking for an oil soap wood cleaner to help clean your kitchen cabinets, you've come to the right place. Here, we'll give you a few tips on how to purchase the best oil soap or wood cleaner for your needs.
When purchasing an oil soap wood cleaner, it's important to consider what type of wood your cabinets are made of. Some cleaners are designed for specific types of wood, so be sure to read the label before making your purchase.
In addition, you'll want to consider the size of your kitchen cabinets when selecting an oil soap wood cleaner. Some cleaners are designed for larger surfaces, while others are better suited for smaller areas.
Finally, be sure to read the instructions on the label carefully before using any oil soap or wood cleaner. This will help ensure that you use the product correctly and avoid any damage to your cabinets.
Applied Vinegar And Olive Oil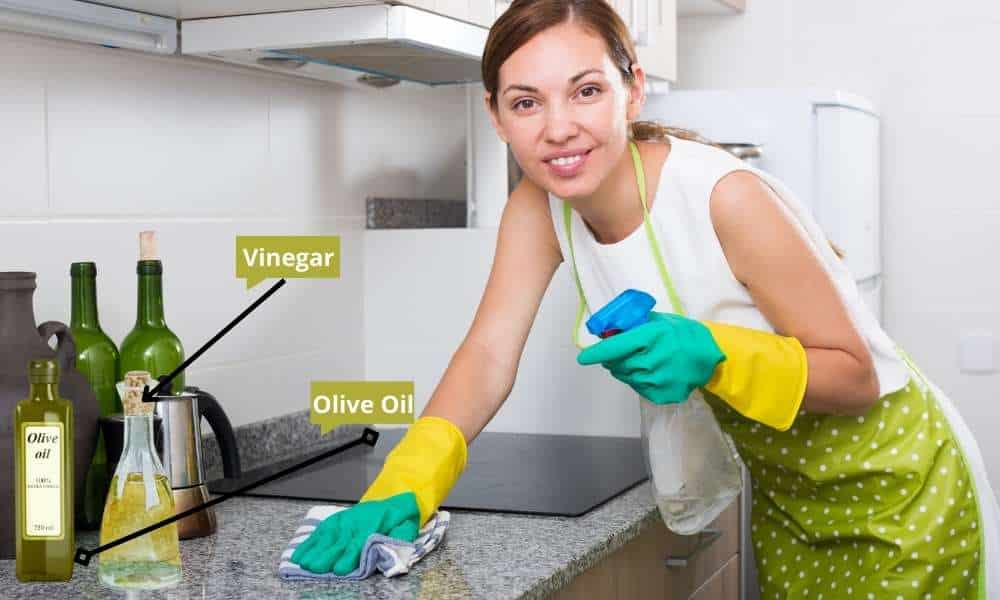 When it comes to cleaning wood cabinets, many people swear by a vinegar and olive oil solution. This natural cleaner is said to be effective at removing dirt, grime, and fingerprints without leaving behind any residue. Plus, it's inexpensive and easy to make! Here's how to do it:
Combine equal parts vinegar and olive oil in a bowl or jar. Apply the mixture to your cabinets with a soft cloth, working in small sections until the entire surface is covered. Let the solution sit for 5-10 minutes before wiping it away with a clean, dry cloth.
Use Baking Soda To Handle Thick Caked-on Substances
If you're looking for a way to clean your kitchen cabinets without harsh chemicals, you can try using baking soda. Baking soda is a natural abrasive that can help loosen thick, caked-on substances. To use, mix equal parts baking soda and water to form a paste. Apply the paste to the affected area and scrub with a soft cloth or brush. Rinse with warm water and dry with a clean towel.
Use A Steam Cleaner To Sanitize Your Cabinets
When it comes to cleaning kitchen cabinets, a steam cleaner can be a powerful tool to help sanitize them. Steam cleaners use hot water to create steam, which can penetrate deep into surfaces and kill bacteria and other germs. Wood cabinets are especially susceptible to dirt and grime, so using a steam cleaner can help remove this build-up and keep your cabinets looking clean. Here's how to use a steam cleaner on kitchen cabinets:
Start by removing all items from your cabinets. If possible, take them outside to clean in order to avoid exposing yourself or your family to any harmful chemicals. Next, fill your steam cleaner with distilled water and attach the appropriate attachment for cleaning surfaces. Run the steamer over the cabinet doors and drawer fronts, taking care to get into all the nooks and crannies.
Applied A Furniture Polish Or Wax After Cleaning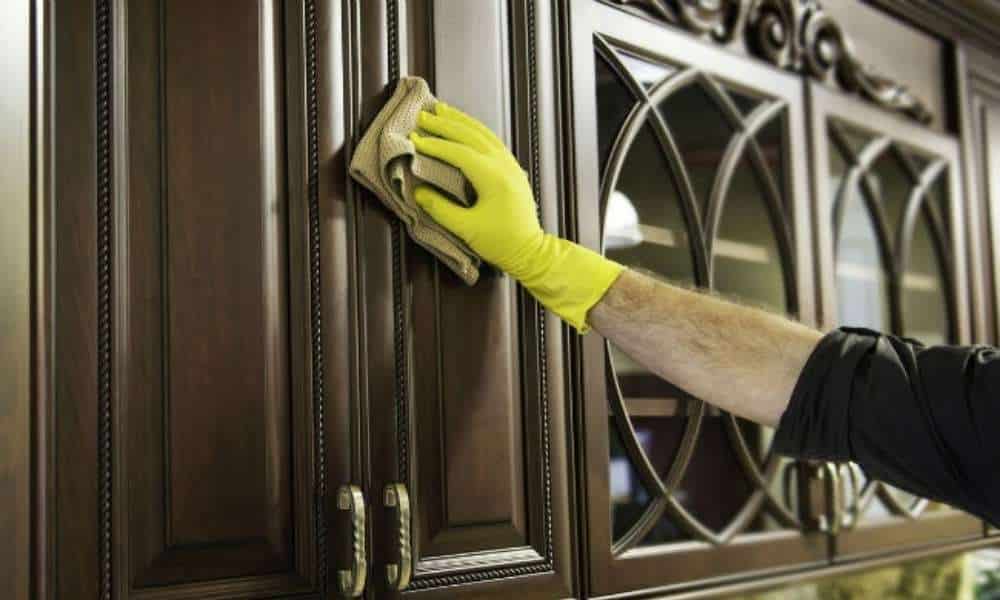 If you've just cleaned your kitchen cabinets and they're looking a bit dull, don't worry – there's an easy fix. Just grab a can of furniture polish or wax and give them a quick once-over.
Here's how to do it: first, make sure your cabinets are completely dry. If they're still damp, the polish or wax will smear and make a mess. Once they're dry, simply spray or rub on a thin layer of polish or wax. Then buff with a soft cloth until you've got the desired sheen.
It's really that simple – you can take your cabinets from drab to fab in just a few minutes!
Repeat This Wood Kitchen Cabinet Cleaning Regularly
If you want your wood kitchen cabinets to stay looking like new, you need to clean them regularly.
Here's how to do it
Dust the cabinets with a soft, dry cloth. Do this at least once a week to keep the dust from building up.
If there are any fingerprints or smudges on the cabinets, clean them with a mild soap and water solution. Wipe them dry with a clean cloth afterward.
Once every month or so, give the cabinets a good cleaning with a damp cloth and mild cleanser. Be sure to rinse and dry the cabinets afterward.
Once a year, you should apply a coat of wood polish or wax to the cabinets. This will help protect them from dirt and stains.
Final Thoughts
Cleaning your wood kitchen cabinets is a simple process that does not require any special skills or knowledge. All you need is a little time, patience, and the right cleaning supplies. With these tips in mind, you can easily keep your wood cabinets looking new for years to come.